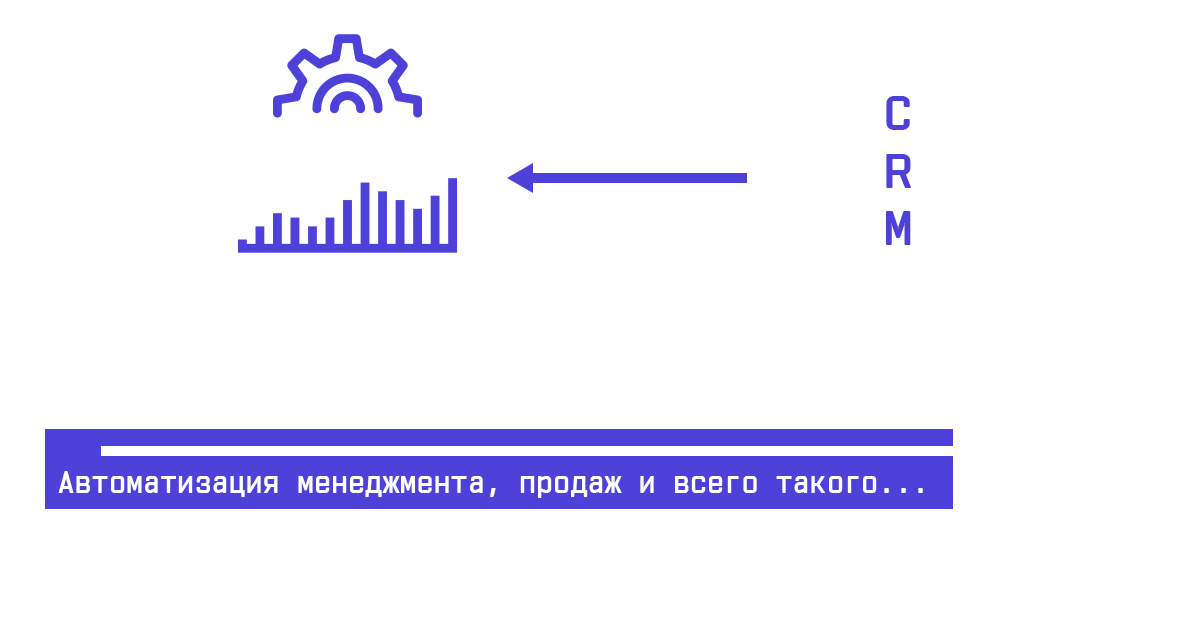 CRM systems development
According to the observations of the React Logic company, almost every third Ukrainian company, the staff of which exceeds 20 people, implements CRM systems in the business structure. As a rule, universal solutions are used, such as Bitrix24, OneBox, 1C: CRM and Onlyoffice. However, the functionality of the "ready-made" products is rather limited, so the owners of companies often resort to the development of copyright CRM-systems focused on individual business problems.
What is a CRM system?
CRM-system (Customer Relationship Management) is a software and hardware complex for organizing and automating the interaction of a company with customers, collecting and analyzing data, as well as systematizing complex business processes. Thus, the integration of a CRM system helps to increase sales, optimize marketing strategies, improve customer service and reduce costs by eliminating processes that require a human factor.
What problems do CRM systems solve?
Personnel management – the distribution and control of the performance of tasks among specialists, the formation of a system of bonuses, etc.
Contact management – the formation of pages with information about a potential or current client.
Communication management – the formation of samples of clients for shares, special. offers, mailings, etc.
Sales funnel management – assigning customers to the stages of the sales process from the first contact to the final conversion.
Order management – the distribution of the process of implementation and service of orders by stages: delivery, payment, etc.
Asset management – formation of a database of assets: goods, documents, employees, etc.
Marketing analysis – collecting data on the behavioral factors of the target audience, demand for offers / products, etc.
Who needs CRM systems?
According to the information and analytical portal CRMsearch, CRM systems are considered the most demanded in the following industries:
professional services – 61%;
finance – 50%;
production – 44%;
state sector – 31%;
health protection – 24%.
First of all, the implementation of CRM systems is useful for representatives of medium and large businesses, who have more than 50 new customers or orders on average. per day. CRM systems also show high efficiency in companies with large sales departments, where tracking the quality of work of each specific specialist plays an important role.
What types of CRM systems are there?
By appointment:
For sales management – designed for forecasting and analyzing sales, managing contacts, and analyzing profit and loss.
For marketing management – designed to compose marketing campaigns and analyze their effectiveness.
For managing the sales department – designed for processing and fixing requests, as well as analyzing the effectiveness of each individual employee.
Complex – combine all of the above functions.
By the level of information processing:
Operational – focused on quick access to data about a specific customer in the process of selling or servicing.
Analytical – focused on the complex analysis of data related to both customers and structural units of the enterprise itself.
Collaborative – focused on the joint work of the client and the contractor in a single system.
By way of organization:
SaaS – cloud-based CRM systems, the software part of which is located on the server of the React Logic company. The customer has access to the functionality of the CRM system, but only employees of the developer company can make changes to the principles of its operation.
Standalone is a ready-made software solution that is installed by React Logic specialists on a client's personal server or hosting. As a rule, such CRM systems are used by projects from the segment of medium and large business.
What does a CRM system consist of?
Front-end – structural elements of the system responsible for customer service at points of sale with centralized, distributed or autonomous information processing.
Operational part – structural elements of the system responsible for authorizing transactions and operational reporting.
A data warehouse is a domain-specific database designed for reporting and information analysis to support decision making in an organization.
Analytical subsystem – functional modules responsible for the analysis of accumulated information (OLAP, statistical, dynamic, etc.).
Distributed sales support system – functional modules with replicas of data at points of sale, allowing you to analyze current trends and consumer preferences.
Note! If desired, React Logic specialists can equip the CRM system with an API module that allows you to expand its functionality with third-party accounting services, receiving applications, processing documents, communication, etc.
Which is better: a ready-made solution or the development of a new CRM system?
Ready-made CRM systems are well suited for small businesses due to their availability and ease of maintenance. However, they do not imply the possibility of flexible customization for specific business goals, and therefore they still force employees to use xlsx tables, organizers and other additional software. You can read more about the features of free CRM in the article "How much does a free CRM cost?".
The development of an individual CRM system eliminates the above-described problems, but it is more expensive and requires some time for development and optimization. At the same time, having its own CRM-system, the customer receives a long-term tool, which, if necessary, can always be modified for new tasks and requirements.
How much does a CRM system cost?
On average, the cost of CRM systems varies in the range from 25,000 to 70,000 UAH. However, in order to calculate the exact price for the development of a CRM system, it is necessary to agree on its functionality, interface, implementation timeframes and other subtleties. Also, more details about the pricing system for CRM systems can be found in the article "React Logic Handbook: How Much Does a CRM System Cost?".
Where to order the development of a CRM system?
React Logic offers services for the development of CRM systems of any complexity with subsequent technical support. To find out more about our services and, if you wish, to discuss the prospects for possible cooperation, please call +38 (050) 888-32-98/(098) 888-32-98 or email office@react-logic.com – the manager will conduct a free consultation for you and, if necessary, arrange a personal meeting.